Below are some markets and industries that are a great fit for the VisionPort, based on Liquid Galaxy, to engage your audience in a new and exciting way. Whether as a short-term rental or a permanent installation, the VisionPort will impress!
Real Estate
VisionPort provides an excellent tool for real estate brokerages and management companies to showcase their properties with multiple large screens showing 3D building models and complete Google Earth data. VisionPort can be configured by your staff to highlight specific buildings, local geographic areas on the map, or any set of correlated land use data. Add to that the ability to show floor plans, panoramic interior photos or videos, and even Google Street View "walking tours" around a given property. All this produces a dazzling display forming the centerpiece of a conference room, boardroom presentation, or lobby of your headquarters.
A VisionPort in your office will provide your firm with a sophisticated and cutting edge sales tool. You will go beyond the traditional ways of viewing, presenting, and even managing real estate sites by introducing your clients to multiple prime locations and properties in a wholly unique, professional, and visually stunning manner. You can even highlight amenities such as mass transit, road usage, and basic demographic data for proper context.
The VisionPort allows your clients an in-depth contextual tour of multiple listings in the comfort of your office without having to travel to multiple locations. VisionPort brings properties to the client instead of taking the client to every property. This saves time and energy for both you and your prospective clients, and sets your brokerage apart as a technology leader in the market.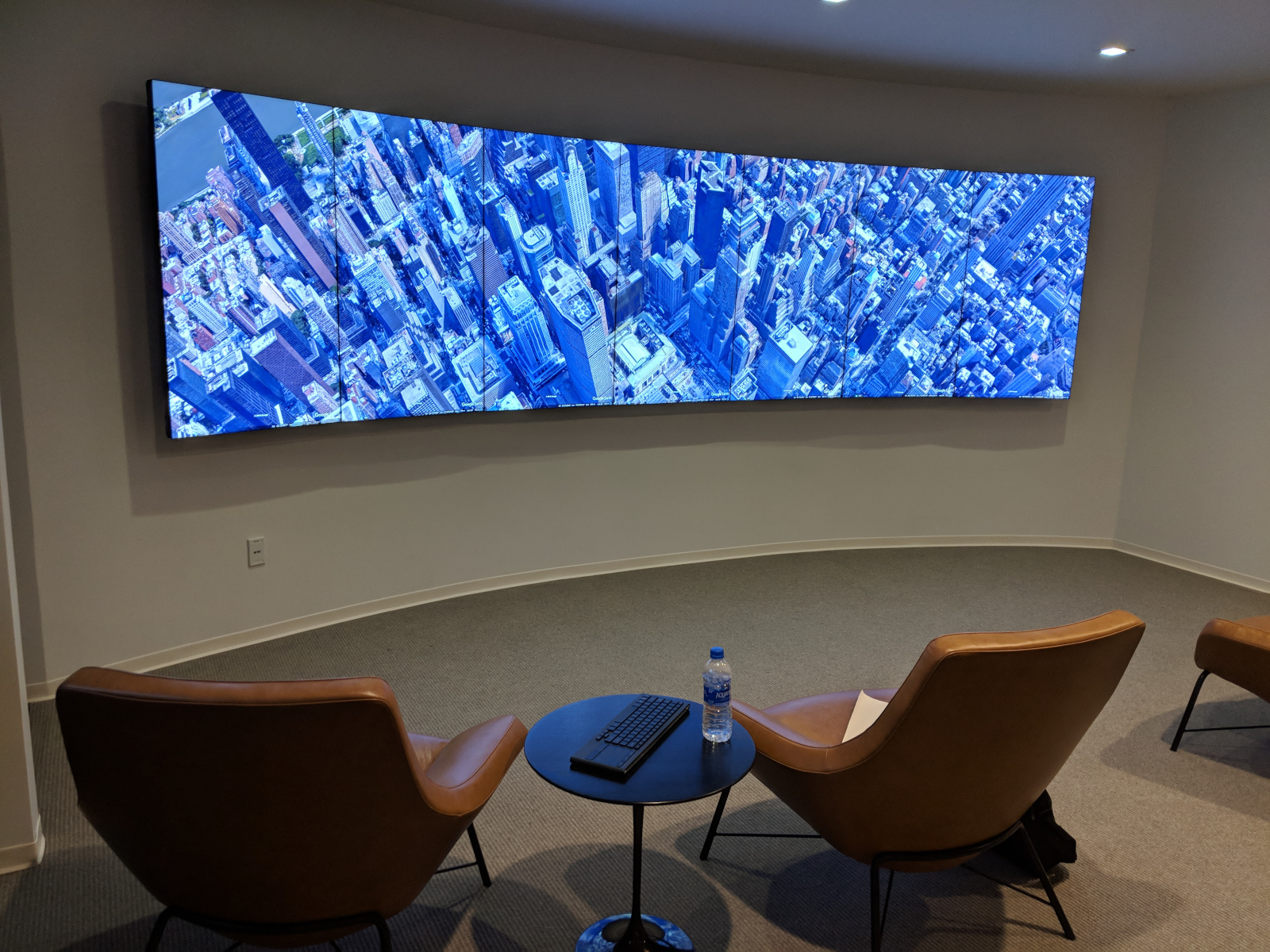 Museums
In museums, the system enchants audiences of all ages. The system's cutting edge technology in itself is a powerful exhibit. Together with beautiful imagery and the ability to explore and discover, the system makes a lasting impression on visitors.
Education
As a shared immersive platform, VisionPort is a natural for elementary, secondary, and post-secondary education, as well as other forms of training classrooms. Its agile Content Management System allows educators to create stories with layers of related material sourced from the internet, images, documents, and audio narrative to deepen and strengthen the learning experience, while delighting the learner, keeping them engaged and fascinated.
GIS Consulting
The VisionPort is an intense data visualization tool for operations, marketing, and research. End Point Dev can take almost any data set that contains GIS coordinates and display the data on Google Earth or Cesium. The data visualizations—bar graphs, area heat maps, shape files, connecting lines—can then be navigated in an immersive geospatial environment.
Loading your organization's GIS data into Google Earth as KML or into Cesium as KML or CZML on a VisionPort that wraps around the room will allow your users and clients to interact and visualize your data in a totally new way. ArcGIS data can also be dynamically displayed and navigated.
The VisionPort CMS (Content Management System) makes it easy for authorized users to point at GIS resources and load GIS markup onto the system, plus it provides the ability to create powerful presentations that go well beyond ordinary GIS presentations by overlaying photos, videos, and webpages on top of the GIS content being displayed.
Travel and Hospitality
VisionPort is an immersive display platform that draws attention to the incredible global and interactive content it displays. Bringing rich satellite imagery and photography to life when experienced in large-scale panorama, VisionPort helps your clients get a taste of your resorts, properties, hotels, or cruises to inspire them to visit in person!
Having a VisionPort in your hotel, travel agency, or tradeshow booth allows you to depart from the traditional visual installation through an exciting technology that appeals to a broad audience. It will engage visitors with travelers' photos and tweets, destination videos, creative tours, world maps, data, statistical overlays, and more.
3D Models
VisionPort can render complex 3D scanned spaces and objects with full free-flight navigation and visual control. If you have a scan of an interior space, an exterior area, or even a 3D model created artificially, we can show it with full angle-adjusted immersion. This is optimal for architects, civic planners, interior designers, or scientific researchers looking to show complex models.